Farewell to our Board
It's our last official day as Auckland District Health Board and the perfect time to farewell our Board members and thank them for their commitment to health in Tāmaki Makaurau and beyond.
Reflecting on his 21 years at Auckland DHB, outgoing chair Pat Snedden left us with this message today, "Don't think you are just small player in a large system," he said. "The mahi you do every day for our patients, whānau, communities and for each other, matters. It matters a lot! We are less without your efforts, and we are enabled to be great servants because of your commitment."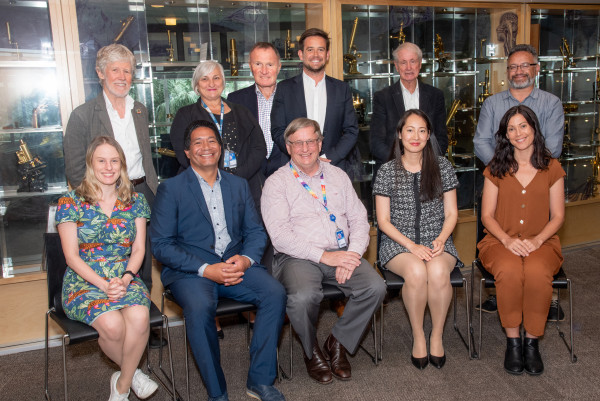 Back: l-r Peter Davis, Jo Agnew, Ian Ward, Michael Quirke, Douglas Armstrong QSO, Bernie O'Donnell.
Front: l-r Michelle Atkinson, Tama Davis, Pat Snedden, Fiona Lai, Zoe Brownlie.




Pat Snedden

Pat has extensive governance experience, having served as Chair of Auckland District Health Board and Counties Manukau District Health Board, The Big Idea Charitable Trust, National Science Challenge - E Tipu E Rea and Ko Awatea Health Partnership, amongst others.

He is a former Director of the Ports of Auckland and Te Urungi o Ngati Kuri Ltd and was Chief Crown Negotiator in the Office of Treaty Settlements from 2008-13. He is currently Executive Chair of the Manaiakalani Education Trust, which works in the service of challenged school communities in Tāmaki.

Pat was awarded the New Zealand Order of Merit for services to education and to Māori. He has a Bachelor of Arts/Commerce from the University of Auckland.

Tama Davis

Tama is of Ngāti Whātua, Waikato and Ngāti Tuwharetoa descent.

He has over 20 years of experience in the public health, mental wellbeing and addictions services, within iwi, NGO sector and District Health Boards.

Tama is Whānau Director at Whai Maia, the social developmental arm of Ngāti Whātua Ōrākei and Director of Ahikaroa Enterprises which develops NGO Māori responsiveness frameworks through strategic advice, auditing measures and delivery of cultural competency and Treaty of Waitangi training.

He is Director of Comprehensive Care PHO, board member of Supporting Families – Auckland, board member of Freemans Bay School Board of Trustees, and Mana Whenua Governance Representative for Emerge Aotearoa EaseUp Youth alcohol & other drug project.

Tama's focus is on effective health services, indigenous models of care, equity in health outcomes and wellbeing for all.

He has represented Te Ao Māori in national and international cultural experiences through performing arts. Tama has a University of Auckland Postgraduate Diploma in Business Huanga Māori, and is currently completing his MBA.

Bernie O'Donnell

Bernie has worked in management for 30 years in the Māori radio sector, including running a national Māori newsroom for almost 20 years. He has extensive networks within te ao Māori. His current work is Cultural Manager and Relationships with the Manukau Urban Māori Authority.Along with other governance roles, Bernie is the Chair of the Board of Trustees of Waatea School, a special character school based at Ngā Whare Waatea marae in Māngere.

Bernie's work and interest is in Māori development, with the dream that all mokopuna grow up in a better Aotearoa than he did. Part of that dream is to look at what a hauora (wellness) matrix looks like for Māori people. For Bernie hauora is about normalising te reo Māori while making the world a culturally safe place for everyone.

Bernie has a Master's degree in Business Administration and a Postgraduate Diploma in Business in Māori Development from the University of Auckland.

Michael Quirke

Michael's background spans commercial and leadership roles across the New Zealand and Australian healthcare sectors, including roles for non-profit and private healthcare providers such as Southern Cross Hospitals, Medibank, and Healthscope. Most recently he joined Mercy Radiology as Chief Operating Officer after four years as General Manager of the Auckland Surgical Centre.

Michael is the Convenor and Chairperson for the Child Poverty Action Group. He holds conjoint Bachelor of Arts & Health Science degrees and a Master's degree in Business Administration, all from the University of Auckland.

Jo Agnew

Jo is a registered nurse who has worked in many areas of the health system. She is currently a senior lecturer in the School of Nursing at the University of Auckland

Jo believes that the provision of high quality health care empowers the population to maintain health.

She has a Postgraduate Diploma in Health Science and a Master's (with Honours) degree in Nursing.

Douglas Armstrong QSO

Doug has been an Auckland DHB board member for six years, serving on the Finance and Health Advisory Committees.

He was an Auckland City Councillor between 2001 and 2010 – and Chair of the Finance Committee for much of that time. Doug was formerly the Chief Executive Officer of Unitec and is a Trustee of the Woolf Fisher Trust.

Doug trained as a civil engineer and is a past president and Distinguished Fellow of the Institution of Professional Engineers New Zealand and a former member of the Prime Minister's Enterprise Council.

Doug received the Queens Service Order for services to tertiary education.

Michelle Atkinson

Michelle is passionate about equity and justice, healthy communities, and mental health services that leave people feeling supported, and is excited to be serving a second term at Auckland DHB.

She has a background in patient experience, community engagement, youth development, and co-design and has applied her research and evaluation skills across the health and social sectors.

Michelle has worked in healthcare for nine years, six of which have been spent in consumer leadership roles improving mental health services across Auckland; inspired by her own lived experience.

Michelle has a Postgraduate Diploma in Health Service Management and has won national and international awards for her contribution to youth mental health. She enjoys the arts, Netflix, and spending time with her loved ones.

Zoe Brownlie BA

Zoe has a health and human relations background specialising in diversity, inclusion, workplace wellbeing, and community and public health.

Zoe manages Belong – a global community building employee wellbeing, works as a Programme Director for the YWCA and is an Ambassador for the 4 Day Week

She has a BA, is currently studying Te Ao Māori, and is parenting two young children.

Peter Davis

Peter is Chair of the Board of Trustees at The Helen Clark Foundation, a New Zealand-focussed public policy think tank.

He recently retired from the University of Auckland where he taught and researched health policy and health services in the Faculty of Medical and Health Sciences for 35 years.

Peter remains an Honorary Professor in Statistics and an Emeritus Professor in Population Health and Social Science at the University. His main areas of interest are: the reporting and using of information to improve the performance of health systems, the effective management of public sector organisations to achieve policy goals, and the development of evidence-informed public policy.

He was also a member of the Auckland Hospital Board and the Auckland Regional Authority in the late 1980s.

Fiona Lai

Fiona currently works as a Pharmacist at Auckland DHB, is a member of the NZ Pharmaceutical Society, and Puketāpapa Local Board member.

As a lifelong Aucklander, Fiona sees our communities are becoming more diverse with changing health needs. Fiona believes in equity and hosts seminars on health risks and disease prevention.

Fiona feels it is important for board members to be a voice for the community when deciding how healthcare is delivered. Fiona brings her community pharmacy expertise, caring nature, practical business skills and a fresh approach to Auckland DHB to ensure we focus on things that matter to patients.

Ian Ward

Ian has considerable governance and senior management experience across a number of New Zealand's largest entities.

His healthcare experience includes nine years as an Auckland DHB Board member, including chairing the Finance, Risk and Audit committee. He is a board member of Francis International Health, the former Deputy Chair of the NZ Blood Service, and a former advisory board member of Health Vision Limited.

Prior to Ian's health governance roles, he was Chief Financial Officer of Auckland District Health Board at a time when significant government money was committed to adding and updating facilities.

Ian is a committed Aucklander, passionate about urgently addressing community mental health issues, improving access to cancer drugs and treatment, diabetes, cardiovascular disease and musculoskeletal conditions.

Ian has a Masters of Commerce and a Bachelor of Science from the University of Auckland.
Last modified:
← Back to the news